Consultations on foreign policy issues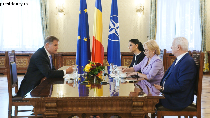 The Romanian President Klaus Iohannis has had consultations on foreign policy issues with the PM Viorica Dăncilă.
The decision of the American President Donald Trump to relocate the US Embassy in Israel from Tel Aviv to Jerusalem set the entire international community on fire, as they are rightfully fearful of a new escalation of the Israeli-Palestinian conflict or a possible extension of this conflict. In Bucharest, the high-level talks and consultations on the issue of a possible relocation of the Romanian Embassy to Jerusalem, after the model of the US, but contrary to the EU present stand on the matter, have turned into a scandal between the government and the presidency.
President Klaus Iohannis claims that such a decision is the prerogative of the country's president, although the government begs to differ. PM Viorica Dăncilă has recently paid an official visit to Israel after the government previously approved a memorandum on an analysis to be made on the possibility of moving the Romanian Embassy to Jerusalem. This has caused the President's discontent and prompted him to invite PM Dăncila for talks at the Cotroceni Palace.
Klaus Iohannis took the opportunity to remind the PM that Romania's foreign policy should serve only the national interest. He pointed out that it was necessary for domestic tensions related to foreign policy to stop immediately, so that Bucharest should continue to be a credible partner for the US, the EU and NATO as well as for the other strategic partnerships it has committed itself to. Moreover, Klaus Iohannis recalled that a country's foreign policy should be constant, predictable, and based on certain core objectives that political decision makers, irrespective of their political convictions, have never failed to observe.
According to the President, changing this balanced and equidistant stand would only cause concern and unrest, and he consequently asked for loyal and correct institutional cooperation between the government and the presidency. Viorica Dăncilă has, in turn, reminded that, in her capacity as the country's PM, her main objective was to promote Romania's interests and to identify the best ways to consolidate Romania's role and status at international level. She has given assurances that a possible relocation of the Romanian Embassy from Tel Aviv to Jerusalem should start from Romania's constant and principled stand that there are two states, Israel and Palestine that should live in peace and security.
We remind you that Romania was the only state behind the Iron Curtain which, at the end of the 1960s, did not follow Moscow's order to break diplomatic relations with Israel, and which also maintained excellent relations with Yasser Arafat's Palestine Liberation Organization. Hundreds of thousands of Romanian-born Jews are now living in Israel, while many Palestinians have studied in the Romanian universities.
www.rri.ro
Publicat: 2018-05-16 13:23:00
Vizualizari: 234
Tipareste