Candidates for the presidency of Romania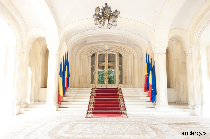 The registration of presidential candidates has concluded in Romania
At midnight on Sunday the registration period for candidates in this autumn's presidential election came to an end. The competitors include the incumbent president Klaus Iohannis, backed by the main opposition party, the National Liberal Party, who emphasised that Romania's modernisation is necessary:
Klaus Iohannis: "These are complicated times for Romania, and we need tremendous effort to fix everything the Social Democratic Party destroyed over the past 3 years. We need to modernise Romania. We need modern hospitals, motorways, clean schools, we need public administration that focuses on citizens, and not on the interests of the civil servants it employs."
Romanians need a different president, believes PM Viorica Dǎncilǎ, who is also running for president on behalf of the ruling Social Democratic Party:
Viorica Dǎncilǎ: "I firmly believe that what Romanians want is a president who loves Romania and the Romanians. I firmly believe that we need balance in this country, we need an active president who is always among the people, a president who abides by the Constitution and has a fair institutional relation with the Government and Parliament of Romania."
The candidate of the USR-PLUS Alliance in opposition is Dan Barna, who says his strengths are the energy and the capacity to represent the new generation:
Dan Barna: "Now is the time to have ambitious goals, and the time to achieve them. Now is the time to start healing Romania, and this is why I take part in this election: because Romanians can and deserve to be happy here, in Romania. What we need is a vision and determination."
According to Teodor Paleologu, the candidate backed by the People's Movement Party, also in opposition, the president of Romania should be not a politician, but rather a diplomat:
Teodor Paleologu: "I believe Romania needs a president able to restore the dignity of the state, to restore the credibility of Romania abroad, and, very importantly, to restore social peace in this country torn by such discord and conflict as we can see unfortunately these days."
The accepted candidacies also include the former MEP Mircea Diaconu, supported by the Alliance of Liberals and Democrats and Pro Romania, and the leader of the Democratic Union of Ethnic Hungarians Kelemen Hunor, who says he wants an innovative, green Romania.
(translated by: Ana-Maria Popescu)
www.rri.ro
Publicat: 2019-09-23 13:55:00
Vizualizari: 423
Tipareste