The European Investment Bank to triple support for Romanian economy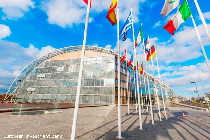 The European Investment Bank will continue to provide massive support for the Romanian economy.
The European Investment Bank Group is tripling its support for Romanian companies from 500 million euros to 1.38 billion euros. The bank's vice-president Andrew McDowell said on Thursday that 5,000 Romanian SMEs (small and medium sized enterprises) would benefit as a result. The Group has been working in Romania for 25 years, and during this time it has provided funding of around 15 billion euros for 300 different projects, McDowell also said. He explained that in the last five years, the bank's investments in Romania had gone up to reach an average funding level of 1 billion euros a year, with a third of this amount being for SMEs, while this year the amount of funding is likely to exceed 1 billion euros.
The Initiative for SMEs combines structural funds with other resources of the European Union and the European Investment Bank to provide loans for 5,000 SMEs and thus contribute to the creation of jobs that are much needed in the private sector. The bank's vice-president also emphasised that the European Investment Bank Group provides not only funding but also consultancy for the preparation and implementation of complex projects. He recalled the support given in the healthcare sector, where the European Investment Bank has provided the feasibility studies for regional hospital projects in Iasi (in the north-east), Craiova (in the south) and Cluj (in the north-west), and is now supporting the preparation of the application for structural funds.
The vice-president of the European Investment Bank Andrew McDowell also participated in the signing of new contracts with financial intermediaries, namely banks from Romania, aimed at increasing the amount of funding. These new contracts will contribute, alongside the existing ones, to supporting SMEs and start-ups that need financing. According to the European Investment Bank, the agreements with these financial institutions aim to facilitate Romanian companies' access to funding through 60% guarantees for each loan and by decreasing the interest rates charged by banks. Following the successful implementation of the Initiative for SMEs in Romania, the Romanian authorities have allocated an additional 150 million euros from the Regional Operational Programme to reach an available budget of 250 million euros.
The Romanian finance minister Eugen Teodorovici said more than 2,000 Romanian SMEs have benefited from this Initiative, with 500 million euros having already been allocated. The ambition of the Bucharest authorities is for SMEs to become the backbone of the economy. He also said he wished Romania followed Germany's example, where SMEs make up 68% of the country's exports.
www.rri.ro
Publicat: 2019-10-04 13:55:00
Vizualizari: 615
Tipareste