Romania enters total lockdown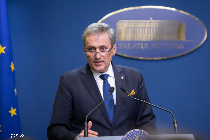 People's movement outdoors is restricted in Romania as of Wednesday, both during the day and at night.
As of 12 noon on Wednesday, new restrictions are in place in Romania following a sharp rise in the number of new coronavirus cases. The measures are part of the third military emergency order issued by the authorities since the declaration of a state of emergency last week. This latest order extends the restrictions on people's movement, which initially applied only during the night, to daytime as well. Interior minister Marcel Vela has the details:
"The movement of all persons outside of their homes or smallholdings is banned, with the following exceptions: travel undertaken for work purposes and to buy food and other essentials for people, pets and domestic animals, as well as any goods needed for work. People are also allowed to travel for medical assistance that cannot be postponed or provided remotely. Trips outside the home are also permitted for the purposes of child care, assisting elderly, sick or disabled persons and taking exercise near the home. People are also allowed to travel for the purpose of blood donations, humanitarian and volunteering purposes, as well as farming activities, with farmers also being permitted to travel in order to sell their products."
As is already known, the elderly are in principle most at risk of developing severe forms of the disease caused by Covid-19, and as a result the Romanian authorities have decided to allow people over the age of 65 to leave their homes or smallholdings between 11 am and 1 pm, and then only to buy essential goods for themselves, their pets and domestic animals; to receive medical assistance that cannot be postponed or provided remotely; to care for a minor or other elderly, sick or disabled persons; in the event of a death in the family; to perform short periods of physical exercise; or to take pets and domestic animals for a walk. People over the age of 65 are only allowed to leave their homes outside of these hours in order to travel to work or carry out farming activities.
In order to justify having left the home, everyone must produce either a workplace ID, a document issued by their employer, or a signed declaration filled out in advance. The military emergency coming into force on Wednesday also stipulates that everyone entering Romania will be either forced to isolate at home or be quarantined. To check that people respect these rules, the security forces are developing communications systems and apps to be used by the interior ministry, the healthcare ministry and the local authorities. Last but not least, all flights to and from France and Germany are suspended for a period of 14 days starting at 11pm local time on 25th March.
Overcoming this crisis depends on everyone, and the Romanian authorities thank all those who respect the new rules and urge those who are not yet aware of the danger to do so also because public health is not a matter to be taken lightly. (Tr.: CM)
www.rri.ro
Publicat: 2020-03-25 14:00:00
Vizualizari: 1216
Tipareste