The Regional Choreography Biennial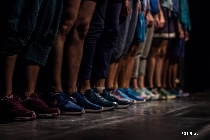 Re//Dance – the first event of its kind devoted to contemporary dance in the whole of central and eastern Europe
The National Dance Centre in Bucharest, jointly with the East European Performing Arts Platform from Poland organized in Bucharest, in the first week of November, the pilot edition of the Regional Choreography Biennial- Re//Dance – the first event of its kind devoted to contemporary dance in the whole of central and eastern Europe. According to choreographer Vava Stefanescu, the idea of organizing the event emerged as early as the autumn of 2013, when she became manager of the National Dance Centre, because the need to get the institution connected to what was happening outside Romania became apparent.
The biennial does not focus on what we traditionally call dance, argues Iulia Popovici, explaining why she chose the name Choreography Biennial and not Contemporary Dance Biennial: "We live in a world where choreography is present everywhere. We have social choreography…as everyone is on the move. Choreography is present in our daily lives. The idea that dance can manifest itself only between three dark walls and a fourth symbolic one, made up by the public, or that it involves the participation of an artistic and professional ensemble, entailed by the concept of dance, is far from what is happening in contemporary choreography at the moment. There is a diversity of forms which are getting closer and closer to common people, precisely because contemporary dance has always been a niche art and stands slim chances to change."
The Regional Choreography Biennial brought together shows and performances from such countries as Bulgaria, the Czech Republic, Croatia, Poland, Hungary and Romania. Mexican artist Cristina Maldonado is residing in Prague and participated in the Biennial with an installation-performance, experimented by one user at a time: "The Stranger Gets a Gift Service - Interruptor". Cristina calls the people attending guests and not spectators, because they are invited to experiment the installation.
Another performance featured at the Biennial was "Mothers of Steel", a Polish-Romanian co-production, created and performed by Romanian Mădălina Dan and Agata Siniarska of Poland. The latter says it was chance that brought them together, when they started working together for a European program.
The project "Mothers of Steel" is an analysis of the so-called crying practice, that is the practice of working with emotion and particularly with tear shedding, says choreographer Mădălina Dan: "We didn't take any particular interest in personal areas, but rather political connection areas or the national identity level and what that entails; why we should identify emotionally with someone else and why there is a high chance of suffering because of things so close to us, relative to our nostalgias, personal histories, the places we lived in, the languages we speak… We both took an interest in this area. She took a higher interest in pathos, as it is reflected in monumentalism or propaganda, or what it is like to have true feelings for your country, which was a desideratum in Communism. I was particularly interested in the emotional area: what leverage we have, why we feel in a particular way and why we identify ourselves with the national emotional area."
The Regional Choreography Biennial is an opportunity for contemporary dance in Romania to reconnect itself to the regional contemporary dance, and the public at large stands this chance, too: "Anytime, any travel teaches you something about yourself, teaches you to reposition yourself, to develop yourself and to reconstruct yourself. This also goes for the movement of artists and of the ideas that artists generate through their shows in this area. If you limit yourself to references coming from a rather limited and close area, you stand slim chance of evolving and developing your thinking. It is not only fashionable to lay emphasis on mobility programs of all kinds. It seems very useful and valuable what happens in the east-European space, but not necessarily from separating the East from the West, but rather as an authentic and original thinking area, which reacts differently, when compared to market systems. I've noticed that the situation of contemporary dance is pretty much the same in these countries, and we all need pretty much the same things, especially in terms of connecting better with the public."
Romania is the only country in the region which has a national Dance Centre, devoted to contremporary dance.
www.rri.ro
Publicat: 2016-11-26 15:18:00
Vizualizari: 1017
Tipareste