Hadi Faour of Israel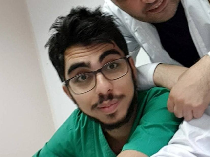 Hadi Faour comes from Israel and he arrived in Romania six years ago to study medicine
Instead of a university from Tel Aviv or Haifa, Hadi Faour he chose the Faculty of Medicine and Pharmacology in Oradea, in north-western Romania. Hadi is enchanted with Romania, a country, which, he says, is very well known in Israel.
Hadi Faour: "Many people from my country actually come to Romania to study medicine; a family friend suggested to me that I go to Romania and see how it is. I came to Romania, I tried in many universities and I got accepted into a few and after a while I picked to study in Oradea. It was a little hard of course coming to a new country but I met many people like me coming from different countries and studying medicine so that made it easier. And Romanians were welcoming and that helped me a lot, actually."
One of the reasons frequently cited by young people from abroad who come to study in Romania are the fees, which can be much lower than in the West. Also, Romania has a good tradition when it comes to medicine.
Hadi Faour tells us about the differences between the education system in Romania and that in Israel: "At first, when I thought about studying medicine I also thought about studying in my country but in my country we had an age limit which was 21 and when I started I was 20. Also, we have fewer places in the country for studying medicine."
Since he arrived in Romania six years ago, Hadi Faour has had a lot of contact with Romanians and is impressed with the people he has met here. Hadi Faour: "They are very welcoming and the country is beautiful. There are many places to see. I visited many places as well: Brasov, Bucharest, Cluj, Timisoara, Arad, Maramures. Every time I visit a city I see something new, something different than in other cities. If I had the chance to visit a place one more time I would definitely visit the Carpathian Mountains and Maramures. It was a great experience for me studying here and getting to know people and getting involved actually in activities in society. We have organised a foreign students organisation here in Oradea, we have organised a cultural festival which was attended by over 1,000 locals from Oradea."
Hadi Faour has some advice for all those who are considering choosing Romania for their studies: "I suggest people to come to study in Romania because it's known for teaching medicine. It's a great country with very kind people."
www.rri.ro
Publicat: 2018-01-25 13:35:00
Vizualizari: 6238
Tipareste