Extreme weather phenomena in northwestern Romania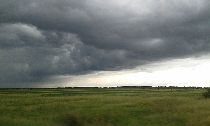 People injured, damaged cars and houses and crops destroyed – this is the sad picture left behind by a very powerful storm that has recently hit the north of Romania.
This spring has been very whimsical in Romania, which was faced with many extreme weather phenomena, a consequence of climate change, as experts say. In early May, the south of Romania was hit by an average tornado, which is a rare phenomenon in this country. Trees were uprooted and tens of houses were left without roofs. Since the onset of spring, meteorologists have issued many yellow and orange code alerts for strong winds, storms and heavy rainfalls in many parts of Romania and hydrologists have even issued a red code alert for flooding on several rivers, mainly in the north and northwest of the country.
The weather has been generally unsettled, with torrential rainfalls, thunderstorms, strong winds and hailstorms being reported. On Tuesday, a red code alert for storm was issued for the north of Romania along with several orange code alerts for rain and gale. The big hailstones and the strong winds have wreaked havoc in the north of Romania, causing substantial material damage and destroying extensive crop areas.
Hundreds of cars have been damaged, scores of trees uprooted and roofs ripped off by the storm. It all happened in only 5 minutes, the sky darkened all of a sudden and outdoor temperatures abruptly reached 20 degrees C. The hailstorm also damaged the walls of buildings and many streets were flooded. The wind speed exceeded 100 km/hour. Many overhead power lines and transformers have also been affected, leaving people in the dark. Several schools in the areas affected by Tuesday's hailstorm suspended classes due to the extent of the damage.
According to meteorologists the atmospheric instability reported in the north and northwest of Romania will extend to the rest of the country by the end of the week. A fresh alert for highly unsettled weather has been issued, valid until Saturday morning, for the western regions, to be later extended to the south west, north and center, the hilly and mountainous areas, then to the south, center, east and again to north of the country. Heavy rainfalls, thunderstorms, strong winds and gale will be reported, and the amount of water is expected to exceed 15- 25 l/sqm, and 35-50 l/sqm on isolated areas. (translation by L. Simion)
www.rri.ro
Publicat: 2019-05-29 13:50:00
Vizualizari: 616
Tipareste