Effects of heavy rainfalls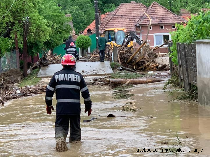 The Romanian government has approved emergency aid during 2019 to support the population affected by floods, landslides and other extreme weather phenomena.
Summer has officially begun, but Romania is still in the grips of floods, heavy rainfalls, hailstorms, gale and strong winds. For several weeks now meteorologists have been issuing code yellow and orange alerts for unsettled weather and floods valid for the entire country. Hydrologists have repeatedly drawn attention to the risk of flooding, as many rivers across Romania have been under code orange and yellow alerts and some even under code red alerts. The abundant rainfalls have caused high floods and rivers have overtopped their banks.
Heavy rain was also reported on Monday night when bridges, homes, enclosures, gardens and cellars were inundated with flood water. Hundreds of people have been evacuated by firefighters. The employees of the Emergency Service and Romanian Waters Authority have intervened on some river dams and controlled the discharge of water from reservoirs, thus avoiding the flooding of several communes. The only areas that were not affected by bad weather on Monday were the Black Sea Coast and 3 counties in the west of Romania. In the rest of the regions, traffic was disrupted on county, national and European roads, which were blocked by the high floods. The hailstorms and flooding reported in the past days have damaged crops. It has been revealed that most farmers do not have crop insurance. Many domestic animals have drowned and lots of localities were left without electricity, with utility poles being downed by waters.
On Monday, the environment and water ministers, Gratiela Gavrilescu and Ioan Denes, went to Prahova county, in southern Romania, which was badly affected by the extreme weather phenomena. They announced that river regulation and bank consolidation works would be undertaken to avoid future catastrophes. Minister Denes talked with the PM Viorica Dancila who promised to allot money from the government's emergency fund to start the respective works, after 4 children were killed by the high floods several days ago. However, the Arad county council representatives (western Romania) have reminded the Government that it has not yet allotted the money 'promised' last year after the floods that affected their county. In another development, several psychologists went to the villages in central Romania that were affected by floods to provide psychological support to the people. The Red Cross has also given a hand, attending to the locals' needs. The bad weather is not over yet, as a warning for unsettled weather and heavy rainfalls is still in place for the entire country.
www.rri.ro
Publicat: 2019-06-04 13:50:00
Vizualizari: 493
Tipareste