The bear sanctuary in Zarnesti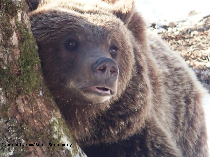 Protecting the brown bears in Romania
Zarnesti is a town in Brasov County. On the outskirts of the town you can find the world's largest bear sanctuary. It was officially inaugurated in 2008, by the Millions of Friends Association and the World Association for the Protection of Animals. More than 100 bears found their peace here; they had been saved from a cruel and abusive life in captivity. Each of the bears has their own story. Some of them were saved from being kept in suffocating cages, being a mere reason for people to have fun in restaurants, hotels, factories, gas stations, circuses or even monasteries. Others were brought over from zoos around the country that couldn't afford offering bears normal living conditions, or from illegal bear owners. Here in Zarnesti the bear sanctuary has a surface area of 70 hectares of forest and grazing grounds. Water tanks, trees for climbing, feeding areas and individual shelters have been made available on the premises. In fact, the bear sanctuary was born from the grief and pain caused by the death of a she-bear, Maya, which had been kept in captivity for the amusement of tourists. Maya was saved by the president of the Millions of Friends Association, Cristina Lapis, who is also the founder of the sanctuary.
Cristina Lapis:
" It has been 15 years since the sanctuary was founded and it would not have come into being had the she-bear Maya not died in my arms, having maimed herself eating her front paws. That she-bear was illegally kept in a cage nearby Bran Castle at a guesthouse, allegedly used as an attraction point for the potential clients. All foreign tourists who travelled to Romanian and who passed by that guesthouse could see for themselves the bear's gruesome facilities and announced the World Animal Protection Association. I was contacted by that foundation; they asked me to go check if the living conditions of the bears were that serious. There were also other bears from Poiana Brasov, nearby the Poiana Ursului hotel, who were tortured, which prompted me to vow that someday, those bears would be free again. I began by asking what the prospective solutions were, for the bears, I had the support of the authorities telling me to rest assured that, if I created a sanctuary for those bears who had been kept in improper conditions for a wild animal, I would get all the support I needed. And that's how the adventure started. Back then it didn't even cross my mind we would have as many as 106 bears, which is the number of bears we have at the moment. And that is how Romania can now boast the biggest brown bears sanctuary. That is how, in 2016, Romania had the world's most ethical sanctuary, second-placed being a gorillas sanctuary, while the third largest such area was an elephants sanctuary. "
The bears in Zarnesti can never be released in the wilderness since they can no longer adapt to wildlife. Many of them cannot stand seeing or hearing human beings, as they had been much too traumatized by humans.
Cristina Lapis:
"In recent years, we took the bears that were confiscated by the National Environment Guard, they were bears kept at the bread Factory, at the uranium Factory, at monasteries, they were bears kept near the petrol pump. These places are absolutely incredible for an animal to be kept in. They were kept there because the Romanian made a habit of that, in the past the Romanians used to be bear leaders but also circus performers, they were bear tamers, taking them to the market towns, while towards the end of her or his life, the bear was a trophy but also a money-making device. A bear that was shot in his cage in Poiana Brasov was a bear with a net worth standing at around 10,000 - 15,000 Euro. The bear is the king of the Carpathian forests and it is a pity to put them in a cage and mock them. It is one of Romania's great treasures, and it must be protected. Not only because it is a richness of our forests, but also because there is the International Convention in Berne Romania signed and ratified through a law, officially acknowledging the fact that the brown bear was a protected animal. Unfortunately, we were unable to gather all the bears. In Romania, there are around 10 or 15 bears that are kept in the same conditions. For instance, at a guesthouse in Straja, this year there will be 20 years since a bear has been kept in a cave. 20 years! One year after the next the bear gets a birthday cake and is given beer to drink. The footage has been posted on YouTube and the whole world can see we keep a bear near a guesthouse to draw clients to that guesthouse. For 10 years we have been trying to persuade the authorities to release it and take it to a sanctuary, to a zoo, to a proper place..."
Romanian boasts Europe's largest population of bears; they prefer vast and thick forests, less frequented by the man. Unfortunately, the increased pressure the forests have been under has lead to a great many incidents. Some bears climb down to households, doing a lot of damage.
Cristina Lapis:
"As we speak, in our forests, or at least what has been left of them, there is no forest fruit, there are no mushrooms left, no nothing, as everything is taken away. So bears, no longer having a source of food, come and look for it wherever they can smell it. And if guesthouses, houses and villas are being built in forests, where everybody can have a barbecue, we almost invite them over, so little wonder then that they come. Of course the hungry bears are on the lookout for food. They do not come to town because they want to take a walk around, it's us that have been trespassing and invading them! We took their lands away from them, we do not provide the food they need, and the solution is a complex one. Shooting them is not a solution either. Hotels, guesthouses, houses that are built along the forest tree line should have protection, they should have an electric fence, and the bear will stop there. In the towns and villages lying at the forest tree line, people should grow apple trees and pear trees, as well as corn, and the bear, searching for food, will stop there. Hunters' associations and the forestry authorities should provide bears with food during spring, just as they used to do in the past. "
The bears Sanctuary in Zarnesti will soon reach the maximum of its housing capacity, so the Environment Ministry announced it would approve the building of a new sanctuary for bears. Also, beginning this year, it has been officially decided that the Romanians living in areas populated by bears should receive subsidies for the purchase of electric fences, capable of protecting their households. The authorities have also pledged they would finance a research study on the population of bears, carried with the state-of-the-art technology, so that we may exactly know the number of brown bear specimens living on Romanian territory.
www.rri.ro
Publicat: 2020-07-31 14:00:00
Vizualizari: 1348
Tipareste