IMF forecasts economic recession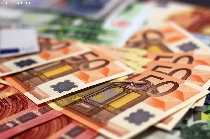 In is the first time, since 1994, when it was set up, that the International Monetary Fund issues such a gloomy economic outlook – a 3% drop in global economy in 2020 due to the coronavirus pandemic.
The International Monetary Fund has revised downwards its economic forecast for Romania this year, in the context of the coronavirus pandemic, according to its latest report. If in October 2019 the financial institution predicted a 3.5% growth for Romania this year, its latest forecast mentions a 5% contraction, followed by an almost 4% recovery in 2021. The IMF forecast is much more pessimistic than that of the World Bank, which last week said it expected Romanian economy to go up by 0.3% this year and by up to 4.4% in 2021.
In Bucharest, the Finance Minister Florin Citu has said the country's economy will see a V-shaped recovery, with the decrease this year being compensated by economic recovery in 2021. The IMF also forecasts a dramatic increase in the unemployment rate in Romania, from almost 4% in 2019 to over 10% this year, and to 6% in 2021.
As a result of the pandemic, the global economy is projected to contract sharply by –3% in 2020, much worse than during the 2008–2009 financial crisis, according to the IMF report. In a baseline scenario, which assumes that the pandemic fades in the second half of 2020 and containment efforts can be gradually unwound, the global economy is projected to grow by 5.8% in 2021 as economic activity normalizes, helped by policy support. Reuters has announced that more than half of the 189 IMF members have contacted the fund in relation to emergency financing, in an effort to contain the virus and decrease its economic impact.
The IMF has said it was ready to deploy its 1-trillion dollar lending capacity to help member states fight the pandemic but that additional resources might also be needed as the pandemic hits developing countries. In an article entitled Global economy to suffer worst blow since 1930s, Financial Times warns that most countries should expect their economies to be 5% smaller than planned even after a sharp recovery in 2021. The World Bank and the IMF called on world leaders to better coordinate their actions so as to draw up a unitary plan to tackle the crisis, Wall Street Journal reports. (translated by Elena Enache)
www.rri.ro
Publicat: 2020-04-15 13:50:00
Vizualizari: 907
Tipareste