May 22, 2020 UPDATE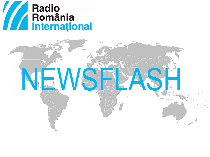 A roundup of domestic and international news.
DEFENSE - Romania's National Defense Strategy for the next four years is the main topic on the agenda of the Supreme Defense Council's meeting on Wednesday. Also discussed will be the number of troops to take part in foreign missions in 2021 and the equipping of the Romanian Army by 2026. National security issues will also be tackled during Wednesday's videoconference.
CORONAVIRUS - The total number of confirmed infections with the COVID-19 virus exceeds 17.700, with some 10.800 people having recovered. 1.159 people have died, while 200 patients are still in intensive care, the Group for Strategic Communication announced on Friday. The Bucharest City Hall has launched an online platform where some 11,000 people living in Bucharest can sign up for voluntary testing against COVID-19. A second testing project will kick off next week and will be addressing 10.500 people. Both are aimed at measuring the spread of the virus in the capital city. The epidemic is on the decrease in Romania, but the impact of easing the lockdown restrictions starting May 15 is not known yet, according to Romanian Health Minister Nelu Tataru. He has also said that we have to wait for a few more days to find out if we can move on to the next stage of lockdown easing or not.
BORDER - Eight checkpoints are currently operational at Romania's western border for people entering and leaving the country and also for freight transport, the Border Police General Inspectorate announced on Friday. The measure was taken to deal with the traffic congestion caused by the big number of people who want to cross the border and the longer waiting time for checks, in the context of the pandemic.
AMBASSADOR - The Romanian Foreign Ministry has confirmed that Romania's ambassador in China, Vasilica Constantinescu, has been involved in a car accident and that the circumstances are being investigated. No victims were reported. The Ministry has also said that no additional information about this can be offered at the moment. The press has reported that a few weeks ago, Ambassador Vasilica Constantinescu caused the accident in Beijing while drink-driving.
MEETING - President Klaus Iohannis on Friday chaired a meeting reviewing the economic situation in the context of the coronavirus crisis, the Presidency reports. Attending were Prime Minister Ludovic Orban, National Bank Governor Mugur Isarescu and Finance Minister Florin Citu. On Thursday, the Government adopted a series of measures to support Romanian businesses with over 100,000 employees, large energy consumers, as well as farmers, by extending the deadline for filing the single payment form by June 15. Moreover, the Government will provide over 2 million people with protection masks. The categories include pensioners and people with disabilities. Under the newly-decreed state of alert, the wearing of face masks is mandatory in enclosed spaces, public means of transportation and at work. (Translated by Elena Enache)
www.rri.ro
Publicat: 2020-05-22 20:00:00
Vizualizari: 345
Tipareste