When will the number of Covid-19 infections drop?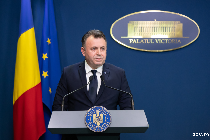 The health minister says the number of new Covid-19 cases could start dropping in 2-3 weeks.
For almost 2 weeks now, Romania has been reporting one negative record after another in the battle against the feared coronavirus. The daily number of new cases has been over 1,000, so that the total, in 5 months of healthcare crisis, is nearing 50,000. The number of patients in intensive care units has also gone up, as has the number of deaths.
The infection rate might only start dropping in 2-3 weeks, and only if citizens observe protection rules, says health minister Nelu Tătaru. According to him, this progressive increase is caused by the thousands of people who tested positive and were released from hospitals before the law on quarantine and isolation came into force.
Nelu Tătaru: "Beginning July 23, when the law took effect, we resumed this colossal effort of identifying, diagnosing, isolating or quarantining patients. We are currently at the high point of the disease for the nearly 4,000 patients who refused to stay in hospital over a period of 3 weeks."
The authorities are working to adapt some hospitals in the areas affected by Covid-19, so that they receive coronavirus patients. Also, since the decision was left to local authorities, a growing number of counties have introduced the obligation to wear face masks in crowded outdoor places as well, including markets, fairs, church grounds, bus stations or train platforms. The rule applies to everybody except for children younger than 5. This is the case with Constanța County, on the Black Sea coast, which is swarming with tourists at this time of the year. Here is prefect George Niculescu:
George Niculescu: "In the seafront areas in all tourist resorts in Constanţa County, which are places that are traditionally crowded during summer, face coverings are compulsory between 6 pm and midnight. The decision was taken following a report submitted by the Public Health Directorate regarding the risks of coronavirus infection and a report from the Constanţa County Police Inspectorate regarding the traffic and people flow data for these hours."
If the pandemic is to be contained, the central authorities say, strict measures must be in place, and people must observe them or else face the harsh consequences dictated by law.
(translated by: Ana-Maria Popescu)
www.rri.ro
Publicat: 2020-07-31 14:00:00
Vizualizari: 196
Tipareste