Athlete of the week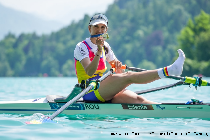 Award-winning rower Ionela Cozmiuc
At the World Rowing Championships held in Bled, Slovenia, the Romanian delegation's overall record was made of five gold medals and one silver medal. On Saturday, the Romanian women's four rowing crew, made of Mădălina Bereş, Maria Tivodariu, Magdalena Rusu and Amalia Bereş walked away with gold. Also on Saturday, the Romanian delegation's only silver medal went to the men's coxed eight crew, made of Mihăiţă Ţigănescu, Ciprian Tudosă, Florin Arteni, Mugurel Vasile Semciuc, Marius Cozmiuc, Sergiu Bejan, Ştefan Berariu, Florin Lehaci and Adrian Munteanu.
On Sunday, Ionela Cozmiuc won gold in the lightweight women's single sculls, while Ioana Vrînceanu and Roxana Anghel won the world title in the women's pair. Olympic champions Ancuţa Bodnar and Simona Radiş won yet another gold medal in women's pair event. The Romanian delegation concluded the competition also winning gold in women's coxed eight event. The winning crew was made of Magdalena Rusu, Roxana Anghel, Adriana Adam, Maria Tivodariu, Mădălina Bereş, Amalia Bereş, Ioana Vrînceanu, Simona Radiş and Victoria-Ştefania Petreanu. According to the nations' competition, Romania came in second, while Great Britain was at the top of the table.
All medalists at the 2023 edition of the European Championships fully deserve the title of Athlete of the week. Spoiled for choice as it may be, Radio Romania International opted for designating Ionela Cozmiuc the Athlete of the week, for her exceptional feat in the individual event she won. Halfway through the race, Cozmiuc was third placed, yet her comeback was exceptional; Ionela Cozmiuc won the race, setting a new European record, with a timing of 7 minutes, 32 seconds and 43 hundredths of a second.
Ionela Cozmiuc was born on January 3rd, 1995 in northern Romania's Câmpulung Moldovenesc. She is 1.78-meter tall and weighs 57 kilograms. Ionela is signed up by Dinamo Bucharest sports club. Her international record includes the 8th place she won at the Rio Olympics in 2016, and the 6th-place at the Tokyo Olympics in in 2021. Ionela Cozmiuc is a two-time world champion, in Sarasota, the USA, in 2017 and in Bulgaria's Plovdiv, in 2018. Ionela's record also includes a bronze medal she won at the European championships in 2019 in Poznan, Poland.
www.rri.ro
Publicat: 2023-05-30 13:45:00
Vizualizari: 495
Tipareste