November 20, 2015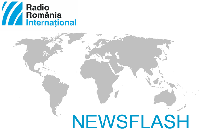 EU interior and justice ministers are holding emergency talks in Brussels / Terrorist attack in Mali's capital Bamako
EU interior and justice ministers are holding emergency talks in Brussels today, following the deadly attacks in Paris. Representing Romania is Interior Minister Petre Toba. The EU ministers will discuss about tightening security and new counter-terrorism measures in the wake of the November 13 attacks that killed 129 people in the French capital. French PM Manuel Valls said that the functioning of the Schengen area might be questioned if authorities in each European country fail to take responsibility for the people transiting their territory. The tragic events in Paris, seen as the work of the Islamic State militant group and the impact of thousands of migrants who came to Europe fleeing conflicts in the Middle East, have triggered an internal debate on the Schengen area.
Several gunmen stormed a luxury hotel in Mali's capital Bamako on Friday firing shots and shouting "Allahu Akbar", or "God is great" in Arabic. The attackers took 170 hostages but some of them were freed after being made to recite verses from the Koran, Reuters reports. The hotel lies just west of the city centre near government ministries and diplomatic offices. On March 7, five people were killed in an attack on a restaurant in Mali's capital for which an Islamist group claimed responsibility.
Three weeks after the horrific fire at Bucharest's Colectiv club the death toll reached 58, after another patient died in a German hospital on Friday. The Romanian Health Ministry announced that 44 people are still in Bucharest hospitals, 11 of them in a critical and serius condition. Around 29 people are being treated in hospitals abroad. On October 30 a fire broke out during a concert at the Colectiv club in Romania's capital city, as fireworks set insulation foam ablaze, triggering a stampede towards the single exit and trapping many inside.
European Commissioner for Regional Policy, Corina Cretu, is today meeting in Bucharest with Prime Minister Dacian Ciolos, deputy PM Vasile Dancu and with several other officials. Talks will focus on measures to be taken by Romanian authorities to speed up EU funds absotbtion. The main goal is to start operational prgrammes for the 2014-2020 financial framework, under which Romania was allocated 35 billion euros. On Thursday the new Government headed by Prime Minister Dacian Ciolos, adopted an emergency ordinance regarding the structure of ministries. Moreover, PM Ciolos announced the setting up of a new ministry, for Public Consultation and Civic Dialogue.
The United States Ambassador in Bucharest, Hans Klemm, has said, that his country will continue to be a very strong ally, partner and friend of Romania. Ambassador Klemm made this statement on Thursday, when he invited Romanians to an online discussion about diplomacy, his ambassadorial term in Romania, the US-Romania friendship and the cultural and educational exchanges between the two countries. Ambassador Klemm also said that Washington, as strategic partner, wants a strong and healthy Romania, with a sustainable economic growth. On the other hand, Klemm said that, contrary to the popular myth that getting a tourist visa for the US is extremely difficult, the visa application procedure is in fact very simple. The American official explained that for the time being the stipulations of the Visa Waiver programme depend on the American legislation and that there are certain criteria that a country has to meet in order to qualify.
(Translated by E. Enache)
www.rri.ro
Publicat: 2015-11-20 13:56:00
Vizualizari: 223
Tipareste