Corruption and Parliamentary Immunity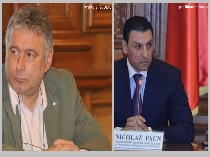 Romanian MPs have again bailed out another colleague from possible taking into custody and preventive arrest, dealing another blow to the anti-corruption fight in Romania.
Two Romanian MPs, probed into in the same file on alleged European funds defrauding, have been treated differently by their Parliament colleagues called to cast their vote on a request from the National Anti-corruption Directorate (DNA) for the two's taking into custody and preventive arrest.
One of the two MPs is Social-Democrat Madalin Voicu, a very picturesque figure, though critics say his only merit is that he is the son of the famous Romanian violinist of the past century Ion Voicu. Currently facing charges of influence peddling, making false statements and money laundering, Madalin Voicu has got away with these offences after his colleagues, from across the political spectrum, have turned down the anti-corruption prosecutors' request for his preventive detention.
The Social-Democrat leader Liviu Dragnea, who confessed he had cast a yes vote, explained the MPs' decision had been influenced by the popularity Madalin Voicu enjoys at present. Popularity cannot be sanctioned, Dragnea has told the journalists eager to learn whether the new Social Democratic Party, whose intention is to shake off the label of "a harbor and protector of corrupt politicians", will be sanctioning those who opposed the DNA request or not.
Nicolae Paun, the second protagonist of this story with a tinge of corruption, is not enjoying the same popularity, as the MPs have voted in favour of his taking into custody. The quorum in his support has vanished into thin air, as the MPs wanted to avoid an unpleasant situation. Nicolae Paun, President of the "Pro Europa" Roma Party Association, is facing charges of having relied on and used forged, incomplete or inaccurate documents or statements, in bad faith, in order to get European funds.
Other charges include embezzlement, changing the European funds destination, money laundering, involvement in financial operations incompatible with his job and position for gaining undue benefits as well as influence peddling. Nothing seems to have convinced lawmakers that any abuse of parliamentary immunity, in an attempt to hinder the justice process, is a blamable act. In fact, suchlike abuses have also been mentioned in all the European Commission reports on Romania's legal system, issued under the Cooperation and Verification Mechanism.
By continuing to protect some of their corrupted colleagues, by what MPs have mistakenly believed to be a legal aggression, have dealt a powerful blow to Bucharest's efforts to have the Verification Mechanism removed. Following Wednesday's vote, the US Embassy in Bucharest has said that curbing corruption is essential for Romania's development and security and that parliamentary immunity should not be abused to protect individuals from being held responsible.
www.rri.ro
Publicat: 2016-02-18 14:09:00
Vizualizari: 148
Tipareste