The road from town to village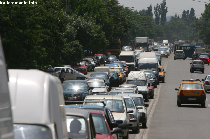 Relocating from large urban areas to quiet villages has been gaining momentum in Romania.
Heavy traffic on the main streets linking the central area of Bucharest to the outskirts is a regular morning townscape, with cars and mini-buses staying in line to enter Romania's capital city. It is a phenomenon that has gained ground in recent years, as many people have moved to Bucharest's satellite localities, but continue to commute to their offices every day, in the heart of the city. This is one of the elements defining a trend which was identified in Romania as early as 1997: every year a growing number of people choose to leave towns and move to villages and not vice versa. This internal migration is natural and has always been registered, but the emphasis is now being laid on the intensity and purpose of the phenomenon, says Vladimir Alexandrescu, the spokesperson for the National Institute for Statistics. He gave us more details about what happened in 2015.
"Some 78,000 people have migrated from village to town, whereas approximately 107,000 others went in the opposite direction, moving from town to village. Experts can now draw some conclusions on the direction of this movement and the intensity of the phenomenon, analysed during a 16-year time span, as of 2000. For instance, in 2000, some 47,000 migrated from villages to towns, whereas 82,000 others migrated from towns to villages. There is an obvious difference. This trend has been further reported, with a relatively equal intensity so far. It became apparent in 2000. Before 1989, people had followed a different trend, moving from villages and setting their domicile in towns, in search of a job. The opposite trend was registered after 1989, and the intensity of the phenomenon was greater."
By simply taking a look at the number of cars running from the outskirts to the city centre and vice-versa or taking a glimpse at the lavish newly built houses in the rural areas surrounding Bucharest, it is easy to draw a conclusion as to who is moving out. But things are not that simple, as Vladimir Alexandrescu underlines:
"The phenomenon gained maximum intensity in the 2008-2010 period, when the effects of the global economic crisis became apparent. It reached its peak in 2010, when no less than 133,000 people migrated from towns to villages. An annual difference of 30,000-40,000 people has been maintained since 2000, with a maximum difference being reported in 2010, when 133,000 people left towns, as compared to 96,000 people who left villages."
Many of those who choose to abandon city life and settle down in villages are accompanied by children, the migration flow being more intense in the 20-30 age bracket, says the spokesperson for the National Institute for Statistics. The migration of pensioners or of those who reach retirement age is just as intense. "Those who already owned properties in rural areas, choose to return there, once they retire, as life in the countryside is cheaper, more affordable than in urban areas", Vladimir Alexandrescu underlines. It is equally important that they have not only a house, but also a plot of land, the air is less polluted, they can grow vegetables, which in some cases is one of the main reasons prompting them to move out.
Andra Matzal, a journalist and translator, is one of those who choose to take a huge step and move 30 km off Bucharest. Andra Matzal.
"I made this choice after having lived in Bucharest for years. I somehow got tired of the hustle and bustle of city life. Furthermore, I played with the idea of learning anew those very simple things that you tend to forget when living in a big city. And I refer to planting your own vegetables and growing your own produce, doing a certain type of physical work, which can only be beneficial, other than doing fitness. It is not easy to pay a rent in downtown Bucharest, nor in remoter districts. Apart from high rents, you have to pay for everything, from transport to outings with your friends. A coffee is extremely expensive. And, since I discovered that I can drink here a coffee which costs 3 lei, and not 8 lei, I'm not willing to spend more. And this is ok, as the real price of things differs from that posted on shelves, for instance".
In spite of all that, Andra Matzal does not live like a farmer, but she leads a sort of hybrid life, vacillating between urban and rural lifestyles. She commutes from her village to Bucharest, which is equally tiring and interesting for a journalist, and then she returns to her house in the countryside, where she can find peace of mind. Andra Matzal:
"First of all, I think I've changed a lot in the past four years. I learnt many practical things, from how to work the land or cook the vegetables we grow. There are also less concrete implications of these works. For instance, you have a more direct relation with nature. On the other hand, I've become more selective when it comes to social activities. As a journalist, you have an almost natural tendency to be at the 'epicenter' of things. I also had the incredible chance to meet people that I couldn't have met otherwise. As a rule, you tend to surround yourself by people just like you. Or, coming from a city and settling in a place like this, you don't meet people like you, but discover people with different life stories, backgrounds, different temperaments and lifestyles, and you have a lot to learn from them. Last but not least I believe I am more organised and pragmatic than I used to be, and maybe a little more daring, braver."
Some of the people that Andra Matzal has met in recent times, are also former Bucharesters, who just like her left the capital city and moved in the countryside. Some of them are experimenting, just like her, this type of hybrid existence, others chose to settle down further away, closer to the mountains and live a truly rustic life. To all of them, moving out meant individual adaptation, which will, in time, also have a strong impact on society as a whole.
(Translated by C. Cotoiu)
www.rri.ro
Publicat: 2016-10-12 13:00:00
Vizualizari: 312
Tipareste