RRI Sports Club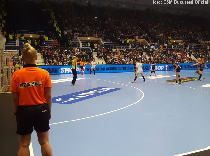 CSM Bucharest are one step away from qualifying for the Champions League Final Four in women's handball
CSM Bucharest are one step away from qualifying for the Champions League Final Four in women's handball. On Friday, the Romanian champions will face the Hungarian side Ferencvaros in Budapest in the second leg of the competition's quarterfinals. Last week in the first leg, CSM Bucharest defeated Ferencvaros 30:25.
CSM's Swedish player Isabelle Gullden was the team's top scorer, with 10 goals. CSM got ahead in the match half way into the first period and remained in the lead for the rest of the match. However, Ferencvaros got dangerously close a number of times, both in terms of score and their performance on the pitch. The return match will thus be difficult for CSM, although it will also be hard for Ferencvaros to make up for the 5-goal difference.
Hungary's manager Kim Rasmussen was present at the match in Bucharest. He is CSM's former manager and played an important role in the team's winning the Champions League trophy last year in the Final Four tournament in Budapest.
CSM's current manager is the Swedish coach Per Andre Johansson, who is under contract until summer. Johansson is one of the most respected managers in women's handball in the world. He was with the Swedish national team for eight years, four as assistant coach and another four as head coach. He won the silver medal with the Swedish side at the European Women's Championship in 2010 and terminated his contract with the Swedish Federation after the London Olympic Games in 2012.

(Translated by Cristina Mateescu)
www.rri.ro
Publicat: 2017-04-12 11:10:00
Vizualizari: 129
Tipareste