Romania, again without a prime minister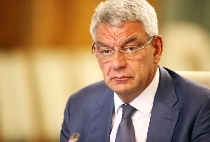 In Romanian politics, it is better to be the declared opponent of Liviu Dragnea than a prime minister sworn in with his blessing, pundits argue
In December 2016, under the leadership of Liviu Dragnea, the Social-Democratic Party won a landslide victory in the parliamentary elections, with a 45% historic high record and thus became the main party in the ruling coalition, set up alongside the Alliance for Liberals and Democrats in Romania, ALDE. The first choice for the position of Prime Minister, Sevil Shhaideh, could have been the first woman head of government in Bucharest, if President Klaus Iohannis hadn't rejected her nomination. Married to a Syrian national, with close relations with the dictatorial regime in Damascus, Mrs. Shhaideh was regarded, back then, as a liability to national security. Therefore, the position of prime minister went to the then president of the Timis County Council, Sorin Grindeanu, a former minister, a party member for more than 20 years, boasting a victory in the local elections in a traditional right-wing fiefdom.
Last summer, tensions between Grindeanu and Dragnea mounted so high and the prime minister's refusal to step down was so firm that the Social-Democrats resorted to an unprecedented gesture in the post-communist Romanian democracy: they toppled their own government by a censure motion, involving a no-confidence vote in parliament. Thus, it promoted at the helm of the government another old-time Social Democrat, considered to be one of the party's devoted soldiers, the Social-Democrat deputy from Braila, south-eastern Romania, Mihai Tudose. On Monday, however, the Executive Committee of the Social-Democratic Party met in an emergency session, at the request of the party president, Liviu Dragnea, and decided to withdraw the prime minister's political support. Shortly afterwards, the prime minister tendered his resignation. Mihai Tudose:
"The party decided that another government with a different approach is needed. There is always room for the better. I may also to blame. This is what the party has decided and just as I said in the beginning, I take responsibility for the entire thing, it was the Executive Committee that nominated me, it was also the Executive Committee that said there's room for improvement".
Tensions reached high levels last week, when the prime minister pleaded for the restructuring of the Government, a method the media believes was intended to remove Dragnea's loyalists from his cabinet. Furthermore, against the backdrop of a paedophilia scandal within the Police, Tudose called for the resignation of Interior Minister, Carmen Dan, herself considered to be one of Liviu Dragnea's protégées. Shortly after the emergency session of the Executive Committee, Liviu Dragnea said:
"It seems I have been unfortunate in my choices, not just my nominations for the position of prime minister. I will not make any nomination, as I've just told my colleagues: I will vote the proposal resulting from the debates. I've told them that we will stay here, in a meeting of the National Executive Committee, until white smoke pours from the chimney".
In opposition, the main right-wing party, the National Liberal Party, says a new crisis proves the Social Democrats' incapacity to govern the country and it calls for holding early elections. President Iohannis will again invite the parliamentary parties to hold consultations for the designation of a new prime minister, as it is not mandatory for the president to nominate the candidate of only one party. Actually last year, shortly after Grindeanu stepped down, the president warned that, if the Tudose cabinet is also toppled, he will seriously think whether or not he will entrust the Social Democrats with the mission of forming a new government. (Translated by D. Vijeu)
www.rri.ro
Publicat: 2018-01-16 13:30:00
Vizualizari: 655
Tipareste