Changes in Romanian Taxation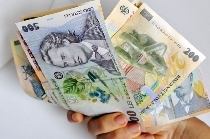 In this feature we will be looking at some of these changes and reactions from businesses and trade unions
Let us first look at the income tax. It went down from 16 to 10% starting January 1. Categories affected are first and foremost wages and wage based income, as well as freelance activities, income from ceding use of goods, rent income, and income from agriculture, forestry and fishing.
Pensions will also be taxed, but in a limited fashion. Taxable monthly pension income is calculated by deducting from the gross pension amount the untaxed 2,000 lei, around 425 Euro. More to the point, there is no tax applying to pensions below 2,000 lei a month.
If entrepreneurs and trade unions did not complain about the drop in the income tax, the same cannot be said of representatives of local authorities. Town halls get a certain percentage of income tax levied on citizens, between 20 to 40%, which mostly go to local investments. Therefore, this cut in income tax could have a major impact at the local level. Among activities affected could be efforts to modernize educational or healthcare units administered by local authorities.
The most controversial measure taken by legislators is related to the contribution made by employees to social insurance. Until the end of 2017, a part of it was paid by the employer, the other by the employee. Starting January 1, social contributions will be paid entirely by the employee. These amounts, however, will continue to be set aside and paid in by the employer. They are as much as 35% of wages, going towards pensions and health insurance. The only obligation left to the employer is the so-called 'labor insurance contribution', amounting to 2.25%. It replaces four smaller categories of contributions, the contribution to the unemployment fund, the contribution for medical leave, the one for professional risk, and the contribution for salary credit.
The shift in burden for major social contributions was harshly criticized by both employers and trade unions. Employers complained of not seeing the point of the measure, and that its implications are hard to predict. As for trade unions, they pointed out that this shift violates the principle of social solidarity and responsibility, which lies at the basis of social insurance systems all over Europe, that of a burden shared by employers and workers.
In fact, many public and private employees raised gross wages by amounts to compensate for the negative effects of the measure, in order to preserve net wages. It made a difference that, starting on the first day of 2018, the minimum wage in Romania went up to 1,900 lei, a little over 400 Euro per month.
The effects of these measures remain to be seen. The authorities claim that they will help with tax collection, which would lead to better state budget revenue, as well as better revenue for pensions and healthcare. Experts, however, warn that if the new changes do not prove beneficial, we could be facing new taxes or tax hikes for older categories. The new minister of finance in Bucharest, Eugen Teodorovici, who took office in late January, addressed these fears when he took over his position:
"As long as I am Minister of Finance, I will not be introducing new taxes, nor increase existing ones. I am not talking of cutting taxes. Today we have a different level. Romania is in a good position in terms of taxation compared to other states in the area. Our big problem is in another area, mainly in bureaucratic terms. Our big problem in Romania is the interaction between the state and the market. This means getting licenses, certificates, the interaction between public servants and taxpayers, and not only." (Translated by C. Cotoiu)
www.rri.ro
Publicat: 2018-02-13 12:24:00
Vizualizari: 138
Tipareste