Proactive environmental policies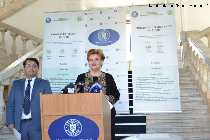 The Government has introduced two new programs for household users to reduce pollution
The effects of pollution turn more dramatic by the year. Toxic fumes from industrial activities and heavy traffic, alongside uncontrolled deforestation, ecological disasters and the accumulation of plastic and radioactive waste have all opened deep wounds in the body of the planet, leading to an imbalance that started to have dramatic consequences on people and life in general. Maintaining environmental balance is vital for maintaining healthy life on earth and that is why environmental polices have started to gain ground lately. On Wednesday, the Romanian Minister of the Environment Gratiela Gavrilescu announced in Alba Iulia, central Romania, that in the coming period ten meetings with citizens will be organized at regional level, focusing on the issue of waste management. Ministry representatives will provide support to all operators in the field, in order to have this problem solved. Here is Minister Gratiela Gavrilescu:
"We will try to go from door to door and learn, educate, inform the citizens about the advantages of selective waste collection and, starting this year, we will focus more on recycling."
The line minister has also stated that 9,000 households that do not benefit from electricity will be equipped with photovoltaic panels, under a project titled 'Light Centennial'. Photovoltaic panels turn solar energy into electricity, in an economical and ecological way. Authorities would like all households in Romania to have access to electricity, and, according to minister Gavrilescu, the first panels will be installed this year.
Another project run by the Ministry of the Environment is the scrapping of household appliances. Here is minister Gratiela Gavrilescu again:
"As many of us have to get rid of old, energy consuming and polluting appliances, by October 1st we intend to launch the funding guide for the household appliances scrapping program. We have already earmarked some 6.4 million Euros from the budget of the Environmental Fund Administration for the launch of this program."
Also, in the next government meeting, a proposal for an additional 30,000 tickets for the car scrapping program will be discussed. So far, 21,000 vehicles have been purchased under this program. The Ministry of the Environment has also stated a funding guide has been published in the Official Journal for projects aimed at diminishing greenhouse gas emissions, mainly by purchasing electrical buses and trams, or vehicles that run on compressed natural gas.
(Translated by M. Ignatescu)
www.rri.ro
Publicat: 2018-08-09 12:29:00
Vizualizari: 529
Tipareste