Bulz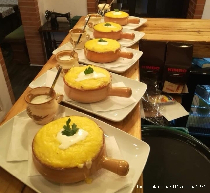 Let's experiment the recipe for a shepherd dish, called in Romanian 'bulz'. It is a preparation based on polenta, mixed with sharp cheese
To make the polenta, take cornmeal and boil it with salt to taste. After cooling it, place a layer on the bottom of a cooking vessel. Over it place a layer of sharp cheese, which can be mixed with finely chopped fresh dill or fresh parsley. You can also add sliced sausage or chopped ham between the layers. Before putting the preparation in the oven, crack a few eggs on top of the last layer of polenta. Bake for about half an hour, then serve hot. You can also use several bowls to make the same dish in smaller, individual portions.
As a fun fact, in 2008, in the village of Turia, Covasna County, the locals made bulz as a roll 150 meters long and 32 cm thick. They used 400 kg of cornmeal and 150 kg of cheese. The bulz was made using 15 cauldrons, each with a capacity of 50 liters, brought by shepherds from sheepfolds all around the area. This earned them an entry into the Guinness Book of Records.
If you go camping, and make an open fire, you can have the outdoors version of this dish. Make polenta as you would at home, then let it cool. Make small balls of cheese, then cover them in polenta, making moderate sized balls. Place them directly on the hot coals to bake, until they get a good crust. Of course, you can also prepare the same version in a baking tray in your oven.
www.rri.ro
Publicat: 2018-09-30 13:27:00
Vizualizari: 473
Tipareste