Athlete of the Week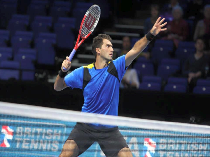 Tennis player Horia Tecau
The Romanian tennis player Horia Tecau this past Sunday won his first tournament in 2019. Pairing up with Jean-Julien Rojer, Tecau won the men's doubles in the ATP Masters 1.000 tournament in Madrid, an event with more than 6,500,000 in prize money. In the final, the Romanian-Dutch pair defeated the Argentinean - Austrian pair made of Diego Schwartzman and Dominic Thiem, 6-4, 6-3.
Tecau and Rojer's win brought the two tennis players 356,540 Euros and 1,000 ATP points in the men's doubles rankings. Also, Tecau climbed from the 33rd to the 21st position according to world's men's doubles standings. For his noteworthy feat in Madrid, Tecau has been designated the Athlete of the week by Radio Romania International.
The win in Madrid has occurred against the backdrop of a rather poor run on the part of Tecau and Rojer. So far in 2019, the two tennis players have succeeded to qualify only once, in the final of the Rotterdam tournament in February. Back then, Tecau and Rojer sustained a defeat by the French - Finnish pair made of Jeremy Chardy and Henri Kontinen, 7-6, 7-6.
Horia Tecău was born in Brasov on January 19, 1985. He has been playing tennis ever since he was 7. In 2002, Tecau won the world's men's doubles title in Wimbledon, jointly with Florin Mergea. He turned pro in 2003. Since July 2008, Tecau has been among the world's top 100 tennis players according to the men's doubles rankings. Since 2009, the Romanian has earned a place among the world's top 50 players. His upward trail has since been a constant one, according to the men's doubles rankings.
Horia Tecau's career best occurred in November 2015, when he was 2nd placed, having won the ATP Champions Tour in London, jointly with Jean-Julien Rojer.
Last week in Madrid, Tecau played the 56th-final of his career. Horia Tecau's record includes 36 wins and 20 losses in final confrontations. (Translated by Eugen Nasta)
www.rri.ro
Publicat: 2019-05-14 13:34:00
Vizualizari: 828
Tipareste