Psychiatric hospitals under scrutiny by authorities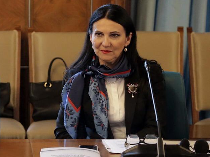 Checks are being undertaken at psychiatric hospitals in Romania after an attack in such a mental health institution which killed 5 and wounded 8.
A long series of human errors and the failure to observe the provisions in the job description – these are the causes that led to a tragedy in a psychiatric hospital near the city of Buzau (southeast), according to the health minister Sorina Pintea. On Saturday night, an alcoholic patient in that mental health facility attacked the other patients killing 5 and wounding 8.
The violence shocked the public opinion and revealed the big flaws of the Romanian medical system, which has been facing lots of problems for many years, one of the most stringent being under-financing. In relation to the Buzau tragedy, the health minister accuses the hospital managers, claiming that the attack occurred because of the medical staff's negligence and not because of flaws in the system.
Sorina Pintea: "Please don't tell me that nobody knew their job description. It is the duty of the senior nurse to organize periodical trainings in relation to obligations at work, procedures and protocols. Has anybody ever done that? Never."
All mental health facilities in Romania will be checked by the Health Ministry officials, Minister Sorina Pintea announced, reiterating that 80% of the hospital managers should not be working in the health system. She also pointed out that changes would be made to the performance indicators for managers as soon as possible.
Sorina Pintea: "We have finalized the investigation in this case, but checks have just started and will continue in all psychiatric hospitals in Romania and mainly in those hospitals with security departments. The health minister cannot go in person to each hospital in the country, but the public health directorates have representatives in the hospitals' boards of directors, who don't seem to be doing their job. These boards should approve budgets, acquisition plans. We'll also have talks related to the modification of the mental health law, because there are many inadvertences. We shall have to corroborate them with the European directives and adapt them to the Romanian realities of the present."
Hospital managers believe the health ministry should decide on a complete modernization of psychiatric hospitals, saying that the equipment and protocols are 30 years old. On the other hand, the trade unionists with the Săpoca psychiatric hospital claim the medical and auxiliary staff in that facility is insufficient and that it is inadmissible to have only one nurse, an instructor and an orderly to watch over 70 patients with psychiatric problems at the weekend. Trade unionists also say that the 75% hazard pay was diminished to 50% on grounds of 'lack of money'. (translation by L. Simion)
www.rri.ro
Publicat: 2019-08-20 13:55:00
Vizualizari: 598
Tipareste