Uncertainties over Romania's European Commission candidate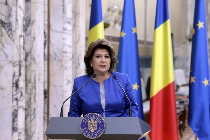 MEPs have rejected Romania's candidate
Social-Democrat Rovana Plumb, minister in several PSD-controlled governments and a leading figure of the Social-Democratic Party (PSD) has been contested by the right-wing opposition as early as her nomination as future European Commissioner from Romania.
The reason invoked was her lack of integrity and competence. Mrs. Plumb could not prove her competence in the field of Transport, she was supposed to take over, because she failed the integrity test during the interview with the Legal Affairs Committee of the European Parliament.
The Committee has briefed the Executive over an existing conflict of interest as far as the Romanian appointee is concerned. The same happened to the Fidesz candidate of Hungary. The unprecedented move is a fair one as the Committee's spokesperson has pointed out, because under the European treaties, the appointee to the position of Commissioner must be beyond reproach, independent and committed to the European general interest.
According to Rovana Plumb, different stipulations created discrepancies between the assets and wealth declaration submitted to Brussels and the one in Romania. The explanation provided by the Committee is superfluous. The presidency and opposition in Bucharest have reacted immediately. The rejection of Rovana Plumb's candidacy by the Legal Affairs Committee represents another major failure of the PSD ruling, which exports incompetence through repeated political moves that are deeply affecting Romania's image, the country's president Klaus Iohannis has said.
Iohannis has called on Prime Minister Viorica Dancila to urgently withdraw Mrs. Plumb's candidacy and appoint a new person only after they have been endorsed by the Romanian president and by Parliament. The opposition National Liberal Party (PNL) has adopted the same stand, while the USR believes that Romania's reputation is at stake and called on the Romanian president to get involved and endorse a new appointee.
Anticipating that the present Executive is not going to survive the imminent no-confidence vote, PMP believes that Romania's proposal for the future European Commissioner must come from the future cabinet. The Democratic Union of Ethnic Hungarians in Romania (UDMR) believes that Rovana Plumb must take a step back, while Romania should produce a candidate with integrity, who is going to understand what is actually going on in the European Union and get political support for the position of European Commissioner.
Currently under intense criticism, the ruling PSD says that not all the steps for Rovana Plumb's confirmation have been taken and that the party also has backup alternatives if need be. What the Social Democrats will not find that easily is an answer to the pundits' question: how come that the Social-Democratic government who has so vehemently opposed the candidacy of Romania's chief prosecutor, Laura Codruta Kovesi as head of the new European Public Prosecutor's Office, over alleged legal issues, proposed for the position of European Commissioner and even called for national support in this case, a candidate facing integrity issues?
www.rri.ro
Publicat: 2019-09-27 13:53:00
Vizualizari: 727
Tipareste