RRI Sports club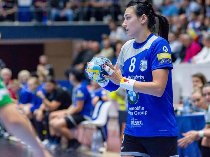 Women's handball goes center stage ahead of the upcoming World Championship in Japan
Romania's national women's handball team as of next week takes part in the Japan-hosted World Championship. Romania is included in group C, alongside Hungary, Montenegro, Spain, Senegal and Kazakhstan. The Japanese city of Kumamoto on November 30 plays host to Romania's debut fixture, the match against Spain. According to one of Romanian lineup's top-notch handballers, the young Eliza Buceschi, the game against Spain counts as a final match, while a win will secure Romania's qualification in the competition's main group stage.
Romania's head-coach, Swedish Tomas Ryde, only one day before the Romanian delegation's departure to Japan had no choice other than operating two changes in his pool or regulars. Cristina Laslo and Bianca Bazaliu did not join the delegation, because of the two handballers' alleged infringement of anti-doping rules. Agerpres news agency quoted a gsp.ro post whereby Laslo and Bazaliu, together with another Corona Brasov team-mate, Daciana Hosu, resorted to the intravenous laser infusions, a line of therapy the World Anti Doping Agency has included on its list of prohibited treatment lines. In for Laslo and Bazaliu are SCM Craiova's Patricia Vizitiu and Anca Polocoser of Minaur Baia Mare.
Fresh from a long recovery period she had in the wake of a serious knee injury she sustained during the European Championship in December 2018, world-acclaimed Cristina Neagu has joined the Romanian delegation for the final tournament in Japan. We recall CSM Bucharest regular Cristina Neagu was the world's number one handballer in 2010, 2015, 2016 and 2018. "There's something bracing in the air once Cristina Neagu has joined in. We have a different morale", Eliza Buceschi told the press.
Romania's record in women's handball includes three word titles, in 1956, 1960 and 1962. In 1972 and 2005, Romania won two silver medals. The national team's most recent feat is the silver medal they won in 2015; we recall that back then, Romania's current head-coach Tomas Ryde was also at the helm of the national squad. At the previous edition of the World Championship, in 2017, Romania came in 10th.
www.rri.ro
Publicat: 2019-11-20 13:45:00
Vizualizari: 882
Tipareste