When will the economy recover?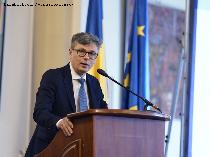 Romanian economy must restart engines, politicians in Bucharest agree, while government is looking at new measures to support this process.
The coronavirus pandemic has generated a lot of heated discussions worldwide about how to solve the current health crisis while also addressing the economic crisis. Romania, where some one million people have seen their work contracts suspended, is no stranger to such debates. The government has already taken some measures to support the business environment and, by extension, employees, and is still looking for solutions to diminish the impact of the pandemic on the economy. According to initial estimates, the Romanian economy shrank by 30-40% during the first month of the state of emergency instated in mid-March.
The economy minister Virgil Popescu, who made an x-ray of the situation in an interview on Radio Romania, explains why in his opinion this drop does not reflect the real state of affairs:
"When we come out of this state of emergency and have clear confirmation that the pandemic is on a falling trend, we will be able to see exactly how the economy starts to recover. As I've said before, the car making industry is very slowly beginning to recover, and the car parts industry began to pick up again on 13 April. The companies in the textile sector have moved quickly and have begun to produce essential materials such as face masks, coveralls, coats and shoe covers for medical use."
The economy minister says he is expecting other industries to resume activity and for some to even readapt very quickly. Virgil Popescu:
"I think the energy industry will recover very quickly. The national energy grid has worked very well, has been very stable, there were no problems. However, there's been a visible drop in consumption, and a drop in consumption obviously leads to a drop in revenues, in profits. I've asked energy companies to come up with a very clear plan of investments for the next five years, with very clear deadlines. Let's not forget that Romania is engaged in the Green Deal European project and there's a lot of investment to be made, so I think some very extensive investments will be launched in this area. In the defence industry, following talks I've been having with the ministry of defence for the last two weeks, we've decided to kick off the strategic projects we began before this crisis, projects that must be continued. I'm also following closely the relocation of certain industries away from Asia, China in particular, and I won't rest until I convince some companies to reinvest and start new production lines here in Romania."
Another sensitive area is the entire hospitality industry, which has been very badly hit by the crisis. Minister Virgil Popescu is cautious about the restart of the Romanian tourist sector very soon, but says a package of measures is being considered to help hotel owners reduce their maintenance costs. The state is also looking at ways to help restaurants, cafés and bars to make the necessary adjustments for when they reopen in order to keep their customers safe. (CM)
www.rri.ro
Publicat: 2020-04-30 14:00:00
Vizualizari: 885
Tipareste