Romanians crowd the beaches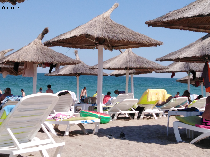 Many Romanians went to the beach on hot weekend amid lifting of travel restrictions.
The coronavirus is still here, but life begins to return to a new normal with the gradual relaxation of the restrictions imposed during the pandemic. And because it's summer, tens of thousands of Romanians went to the beach to take advantage of the good weather and the pleasant temperature of the sea, hoping to forget the stress of the last few months but disregarding the measures still in place to prevent the spread of the virus.
This past weekend was the busiest on the Romanian Black Sea coast since the start of summer, with beaches packed with people, who forgot about the dangers they are exposed to and the physical distancing and hygiene measures in place. Lots of people also went to the mountains, with Maramures, in the north-west of the country, and Prahova Valley, in the south, being among the most popular destinations.
The authorities are on alert, fearing the number of new infections with Covid-19 may increase significantly. The health minister Nelu Tataru says that following the relaxation of restrictions, people are no longer observing the measures imposed by the authorities.
On Sunday night, the health minister Nelu Tataru told a private TV station that Romania has a 4% infection rate and a high degree of community transmission and again urged people to observe the rules, such as wearing face masks, respecting physical distancing and washing and disinfecting their hands. "The medical system is prepared, but we shouldn't rely on this. Serious cases are on the increase, there's a high level of virulence and the groups most at risk are affected. We've also seen many young people affected", emphasised the health minister.
If new clusters appear, the authorities are considering restricting travel to those areas. The minister said tourist regions such as Prahova Valley and the Black Sea coast are critical, with people coming there from all over the country and then going back to their communities and transmitting the virus there. Asked if lockdown measures will be imposed on certain tourist hotspots, he said this is not something the authorities are planning to do, but that businesses must observe the rules or measures will have to be taken. The minister also said the government is working on a bill laying down quarantine and isolation measures for when the state of alert ends.
Prime minister Ludovic Orban has asked for stricter checks on the ground to verify compliance with hygiene and physical distancing measures.
www.rri.ro
Publicat: 2020-06-29 14:00:00
Vizualizari: 228
Tipareste