Authorities extend the state of alert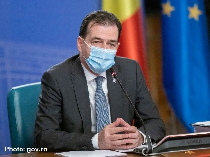 Authorities have extended the state of alert by another 30 days
The Government in Bucharest has adopted a decree extending the state of alert by another 30 days, effective as of Tuesday. The measure is meant to limit the spread of the SARS CoV-2 virus. This is the fourth time the Government has taken such a measure. The state of alert was first introduced in mid-May, replacing the state of emergency. The document passed on Monday provides for a series of measures referring to the unfolding of the campaign for the local election due on September 27, as well as to other norms and standards allowing for the organization of meetings and public events. In this particular case, participation is limited to 100 people, with the full observance of health safety measures, State Secretary with the Interior Ministry, Raed Arafat said on Monday.
As regards meetings, Raed Arafat said the riot police might take action if the maximum number of participants is exceeded. On the other hand, citizens who will cast their votes at the polls on September 27 will have to sanitize their hands upon entering and leaving the voting station. As regards the mobile ballot box, this will be first taken to immobile but healthy people, then to people currently in isolation or quarantine. State Secretary Arafat also said the Health and Interior ministries would issue a joint decree, with the permission of the Election Authority, instating specific voting regulations in polls.
On the other hand, faced with an increasing number of requests, the Government has decided filming crews shooting their productions in Romania are exempt from entering quarantine when arriving in the country. According to Raed Arafat, these crews were previously exempted under a piece of legislation regarding their professional activity, yet this aspect still needed clarifying by means of limiting certain standard procedures.
The decree passed on Monday also lifts restrictions for contact sports, the Minister of Youth and Sports Ionut Stroe has said. Competitions and training for sports such as boxing, judo, wrestling or karate can resume once a joint decree is issued by the ministries of Health and Youth and Sports. Over the last months multiple athletes expressed disgruntlement with the fact they cannot train properly due to pandemic-related restrictions in place. The presidents of the boxing, wrestling and judo federations complained all internal competitions are on standby, and athletes cannot train, which will place them at a disadvantage when facing foreign competitors in international contests.
(translated by V. Palcu)
www.rri.ro
Publicat: 2020-09-15 14:00:00
Vizualizari: 223
Tipareste