European Prosecutors give solemn undertaking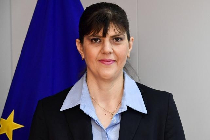 Laura Codruţa Kövesi will be heading one of the most important institutions of the European Union
The European Public Prosecutor's Office (EPPO) has officially started its activity in a formal sitting before the Court of Justice of the European Union in Luxembourg on Monday. The newly founded body is headed by Laura Codruţa Kövesi, the former director of the National Anti-Corruption Directorate.
"I solemnly undertake to be completely independent in carrying out my responsibilities, in the interest of the Union as a whole, and neither to seek nor take instructions from any person or entity external to the European Public Prosecutor's Office. I further undertake to comply with the duty of confidentiality, as regards all information held by the European Public Prosecutor's Office". This was the solemn oath taken by Kövesi and the other European prosecutors, which include another Romanian, Cătălin-Laurenţiu Borcoman.
The European Public Prosecutor's Office is an independent body of the European Union charged with investigating, prosecuting and taking to court crimes that infringe on the EU's financial interests, such as corruption or cross-border VAT fraud that result in a prejudice exceeding €10 million. To this end, the EPPO, which will be headquartered in Luxembourg, is conducting investigations and prosecutions working with the relevant courts of law in member states. The EPPO presently has 22 adhering members: Austria, Belgium, Bulgaria, Croatia, Cyprus, Czech Republic, Estonia, Finland, France, Germany, Greece, Italy, Latvia, Lithuania, Luxembourg, Malta, Netherlands, Portugal, Romania, Slovakia, Spain and Slovenia. Laura Codruţa Kövesi told the El Pais daily that the institution she is heading is a means of protecting the rule of law in the EU. The European official expressed hope to create an independent institution, to prove no one is above the law. The activity of the EU chief prosecutor is central to the credibility of the EU, especially amidst numerous cases of corruption reported in recent years in Spain, Bulgaria, Romania or Malta, or against the backdrop of financial scandals in the Netherlands and Denmark or attempts at undermining the law in Poland and Hungary, the Spanish newspaper also writes.
In Romania, Laura Codruţa Kövesi was removed from the helm of the Anti-Corruption Directorate two years ago, following a request of the Justice Minister at the time, Tudorel Toader. The Minister claimed Kövesi's actions "go against the rule of law". Highly controversial at the time and harshly criticized by the opposition, the decision to sack Kövesi caused a public uproar. Recently, Laura Codruţa Kövesi has won a court case at the European Court of Human Rights, where she challenged the decision to remove her from office before the expiry of her mandate. The ECHR unanimously ruled that Laura Codruţa Kövesi had been denied her rights to fair trial and freedom of speech.
(Translated by V. Palcu)
www.rri.ro
Publicat: 2020-09-29 13:50:00
Vizualizari: 349
Tipareste