King Carol II of Romania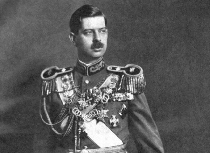 The most controversial king of Romania, Carol II had the qualities of a leader and carried out important reforms while at the helm of the country.
In the summer of 1930, Carol II, the eldest son of King Ferdinand I and Queen Marie, the founders of greater Romania, acceded to the country's throne. The most controversial king of Romania, Carol II had the qualities of a leader and carried out important reforms while at the helm of the country. However, his difficult personality and his general attitude prevented him from living up to his predecessors.
King Carol II was born on October 15, 1893 in Sinaia, the summer residence of Romania's kings. He took part in the second Balkan War in 1913 and in WWI. An adventurous nature with a very big ego, Carol renounced his rights to the throne twice, in 1918 and in 1925. His first son was born in 1920, from the marriage with Ioana Lambrino, a marriage that had not been approved by Parliament. After the dissolution of his marriage, he made a long journey around the world, at the end of which he met Princess Helen of Greece and Denmark, daughter of King Constantine I of Greece. They married in March 1921 having a child on the same year, Prince Mihai, the future king of Romania.
By 1927, when his father died, Carol had given up his succession rights and had been living in France, while a regency was leading the country on behalf of his underage son, Michael. Carol returned to the throne in 1930, at the request of the Romanian political class. He ruled Romania for more than 10 years, during which the country underwent thorough transformation. Thus, the great systematization of Bucharest, the erection of the Royal Palace and the setting up of the Royal Foundations, a famous cultural institution, took place during his rule.
Radu Boros, working with the Institute of Air Law in Konigsberg, Germany, held a number of positions in the Romanian aviation in the 1930s. In an interview with Radio Romania's Oral History Centre, carried in 1995, he talked about King Carol's role in boosting the development of Romanian aviation: "I want to tell you that for me King Carol II was a great king. If only the Romanians had understood him, we would have made greater progress. Everything that was done since the end of WWI and the beginning of WWII, all the progress in industry, administration and so on was his idea, his doing, his hand. When he came to Romania we had nothing in terms of aviation. During WWI we had few pilots and a small number of tethered baloons. Then, we focused more on tethered baloons than on fighter aircraft. So he decided to give it a boost and developed military aviation. He gave orders for the IAR Brasov to be set up, where we built a fighter aircraft, IAR 14, which in 1937-1938 was a good military aircraft. Then, King Carol realised we also needed civil aviation and decided to create an exclusively Romanian air company. Before this company was set up, Romania had partnered with France in the French-Romania company."
Nevertheless, the king also had big personality problems that affected the functioning of the state. He surrounded himself with people that had a bad infleunce on him, not to mention his love affair with a highly manipulative woman. His foreign affairs policy was rather unsuccessful. Radu Lobei was the king's head of security and in 1994 he remembered the visits paid by Carol II to France, Britain and Germany.
Radu Lobei : "In 1938 I accompanied the King on his visit to London, where he had to follow a very clear schedule drawn up by prime minister Armand Calinescu. It was a schedule hard to follow because the British Royal House did not want to receive Carol. Even the French authorities received him only on condition that his mistress, Elena Lupescu would not join him to France. Of course, the day after King Carol arrived to Paris she showed up, but stayed in a different hotel. We made the visit to Paris, then to London, where we stayed for about 10 days. We returned to Paris and we were about to get back to Romania, at least that was the plan. But one morning, I can't remeber the exact date, probably the 9th of November, when I went to Hotel Meurice where the King stayed, he told me he decided to go to Berchtesgaden to visit Hitler, whitout any previous appointment. I was in shock. Imagine, all those visits arranged with such difficulty to help him regain his connections with the West, and all he wants is to visit Hitler…''
1940 was a terrible year. Romania lost the territories that it had gained with great sacrifice at the end of WWI – Bessarabia, Northern Bukovina and South Dobruja (known as Cadrilater). In September 1940 Carol II gave up the throne of Romania without glory and went into a new exile with his mistress Elena Lupescu and some of his close entourage. He died on April 4, 1953, in Estoril, Portugal. Only a few close friends and his brother Nicolae attended the funeral.
www.rri.ro
Publicat: 2020-10-26 14:01:00
Vizualizari: 1664
Tipareste