Personality of the year on Radio Romania International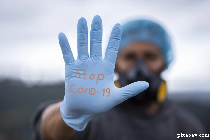 RRI listeners have chosen the person whose activity had the most positive impact in 2020
Dear friends Radio Romania International has carried on its traditional opinion poll among its listeners, Internet and social network users about the person who had the most positive impact in the world in 2020.
As expected this time it was not 'Personality of the Year' but 'People of the Year' on Radio Romania International as medical workers the world over have been designated the world's best citizens for being in the frontline against the Covid-19 pandemic, which has significantly impacted the life of the entire planet.
Here are some of those who have designated medical workers as 'People of the Year' on Radio Romania International: David Iurescia of Argentine, Teruhiko Kachi of Japan, Javier González Nungaray of Mexico or Miodrag Ristici of Serbia, who said:
"Medical workers have been in the frontline since the onset of the pandemic. Their commitment has been helping all those suffering from Covid-19 infection saving many lives and preventing many patients from getting more severe forms and going to hospitals. Unfortunately, many of them got infected in the fight against this evil disease and some even died. By all means the 'Personality of the Year' title should go to them".
"People of the year 2020" are the victims of the novel coronavirus and their close ones, who in most of the cases were unable to bid a final farewell", says the RRI listener Giovanni Frassinetti of Italy.
Other nominees included the two German scientists of Turkish extraction Ugur Sahin and Ozlem Tureci, founders of the BioNTech laboratories, the famous American physician and immunologist Anthony Fauci, the Romanian physician Virgil Musta for the early introduction of blood thinners into the treatment of those infected, Italian physician Gino Strada and the volunteers of the humanitarian NGO Emergency, the WHO director Tedros Adhanon Ghebreyesus, professor John Ioannidis with the Stanford University School of Medicine, and professor Didier Raoult, a French expert in infectious diseases.
Among the political leaders nominated were the US president elect Joe Biden, the incumbent US president Donald Trump, Pope Francis, the European Commission president Ursula von der Leyen, the new president of the Republic of Moldova, Maia Sandu, the Belarussian opposition leader Svetlana Tikhanovskaya, Brazilian president Jair Bolsonaro, the Hong Kong pro-democracy activist Joshua Wong and the Prime Minister of New Zealand Jacinda Ardern.
Among the nominees there were also the late footballer Maradona, actress Kira Hagi, daughter of the former Romanian football talent, Gheorghe Hagi, Japanese tennis player Naomi Osaka or the vlogger/YouTuber CSYON for his live transmissions during the pandemics, proposed by Adrian Heinrich, a 9-year old kid from Germany, who is tuning into RRI transmissions together with his 15-year old brother.
www.rri.ro
Publicat: 2021-01-01 13:00:00
Vizualizari: 557
Tipareste