Radio Romania International Sports club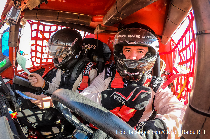 Romanian crews at the Dakar Rally
The Dakar Rally 2021 is underway in Saudi Arabia these days. The competition will draw to a close on January 15. It is organized along a loop-shaped 7, 646 kilometer-long route, with its start point being set for Jeddah, which will also be the endpoint of the race. Taking the start in the competition were three Romanian pilots. They were Emanuel Gyenes, Claudiu Barbu and Marius Lupu.
Emanuel Gyenes competes in the moto section. The Autonet Motorcycle Team pilot rides a KTM 450 Rally Replica motorcycle model, in the G2.2 Marathon class. In 2020, Gyenes came in 29th in the race. The Romanians' career-best occurred in 2016, when he came in 14th. In 2020 Emanuel Gyenes won the Malle Moto class, the category where no technical assistance is offered. However, Gyenes had a difficult year because of an injury. He broke his right leg, he underwent a surgical operation, he had a rod placed in the fractured bone, then it took the Romanian a couple of months to recover. Gyenes disposed of the crutches as late as October 2020. This year, his start in the Dakar Rally was a good one. After nine legs, in the overall category, Gyenes is 25th-placed. In the Malle Moto he is the runner-up pilot, the same as in the Marathon class.
In the auto competition's Special Service Vehicle category, lining up for the start was the crew made of Claudiu Barbu and Marius Lupu. The two drive a RZR 1000, T4.1 class Turbo Polaris car. However, they faced technical problems in the seventh leg, which dented their chances to hope for a better placement. In the Special Service Vehicle category Barbu and Lupu were 40th-placed. The Romanian crew was 47th-placed in the overall light vehicles ranking in the Dakar Rally.
www.rri.ro
Publicat: 2021-01-13 13:45:00
Vizualizari: 105
Tipareste