Romanian David Popovici, the fastest swimmer in history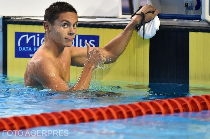 At the European Championships in Rome, on Saturday, David Popovici finished the 100-meter race in 46 seconds and 86 hundredths
On July 9, 1922, in Alameda, California, Johnny Weissmuller swam one hundred meters in less than a minute, setting a new world record. Born near Timişoara, in Freidorf, he was to become famous both thanks to his Olympic victories and especially to the main role in the movie "Tarzan, the Ape Man". After 100 years, another athlete born in Romania broke the world record in the 100-meter freestyle event, practically becoming, the fastest swimmer in history, given the official results approved so far.
At the European Championships in Rome, on Saturday, David Popovici finished the 100- meter race in 46 seconds and 86 hundredths. He thus broke a 13-year-old record, held by the Brazilian Cesar Cielo Filho, who, also in Rome, but at the World Championships, in 2009, recorded 46 seconds and 91 hundredths, at a time when specially designed suits to increase speed were still allowed. As expected, the international press wrote appreciatively about David's record. "The 17-year-old phenomenon erased Cesar Cielo's record in the European final", Marca wrote and Gazzetta dello Sport called David "Baby Fenomeno".
On Monday, the Romanian swimmer was very close to repeating his performance in the European 200-meter final. David Popovici, the current world champion in the 200m event, won the final in Rome as well, as a great champion, with a time of one minute, 47 seconds and 97 hundredths, a new world and European record in the juniors' competition, as well as in the Rome competition. He was less than one second, more precisely 97 hundredths, away from the record broken by the German Paul Biedermann, also from Rome in 2009. At the same time, the recorded time was only one hundredth of a second longer than the one with which Michael Phelps, David's idol, won the Olympic title in Beijing in 2008.
After David's victory in the 200 meters and the award ceremony, Radio Romania's reporter asked David how he felt being so close to the American's performance: "I felt ultra-satisfied, of course, but not at all disappointed that I didn't manage to obtain his time. But it's okay; I have all the time in the world. Phelps, when he obtained this time, one hundredth of a second better than me, he also broke the world record. This final tired me more, being the second event in the schedule. It's not like it was absolutely the hardest race of my life. It was definitely the best race in the 200-m event. But this is how it is in sports. If everyone was able to cope with such a level of effort, then there would be many more athletes at this level."
In Rome, David Popovici will also compete in the 400-meter freestyle event. The heats of the race are scheduled for Wednesday, August 17. (LS)
www.rri.ro
Publicat: 2022-08-16 14:00:00
Vizualizari: 1240
Tipareste