Flooding in eastern Romania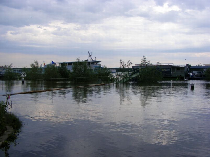 The eastern part of Romania has been seriously affected by flooding over recent days following heavy rain. A number of people have drowned and hundreds of homes and bridges have been destroyed, as well as roads.
The inhabitants of several villages in Galati County have been through an ordeal over the last few days. They have seen enough rain as it would have normally fallen in two months, with the amount of precipitation reaching 140 litres per square metre and the level of flood water going even 2 metres deep. A number of people died, including one child.
One of the most dramatic cases was that of an 8-year-old girl who drowned after being separated from her father's arms by the water. The rain has also caused a lot of material damage, including hundreds of homes, cars and farming equipment being carried hundreds of metres and tens of farm animals being drowned. Many bridges and road sections have been damaged; railway travel has been disrupted on certain routes because of the debris carried by the floods, while many villages were left without electricity. Hundreds of people have been evacuated for fear of flash floods.
The alert level for flooding on the rivers in the area has been raised to yellow and even orange. The authorities in Galati also warn of the fact that the quality of the wells, the only sources of water in the area, has been compromised in terms of health safety, urging people to drink only bottled water. No cases of digestive illness transmitted through polluted water have been reported yet, but the authorities will be monitoring the situation.
Other priorities at the moment are taking measures to protect the local population and their assets, as well as the reconstruction of damaged infrastructure. Military and gendarme forces have been deployed. During the night, they conducted rescue operations while during the day they helped people remove the debris and the water from their homes.
The people whose houses have been damaged have received beds, food and water, while those who have been evacuated have been temporarily housed in cultural centres and schools. If they need to spend a longer period of time away from their homes, modular houses will be provided for them. It's not the first time this year that Romania has been seriously hit by flooding. Last spring, many houses and thousands of hectares of farm and pasture land have been entirely covered by floodwater in southern, south-west and centre of the country.
www.rri.ro
Publicat: 2013-09-13 13:26:00
Vizualizari: 667
Tipareste